A FRESH OPTION
Pain relief like no other
Movelat is a unique dual-action anti-inflammatory treatment that provides targeted pain relief like no other topical analgesic.
One of the most widely prescribed branded topical analgesics in the UK*
So what can we share with you about this unique formula?
Movelat's unique dual-action formula contains Mucopolysaccharide Polysulfate (MPS) (0.2% w/w), which relieves pain and inflammation, and Salicylic Acid (2.0% w/w) an absorption enhancer to help MPS reach deeper layers of inflamed tissue
Easily absorbed
An effective solution
Simple to apply
Suitable for a wide range of patients
Movelat has been used for over 50 years
* IMS data MAT Dec 2013.
FORMULATIONS TO SUIT INDIVIDUAL NEEDS
Movelat is available in cream and gel formulations, and tubes of 40g, 80g and 125g, to suit individual patient needs' for the treatment of pain and inflammation: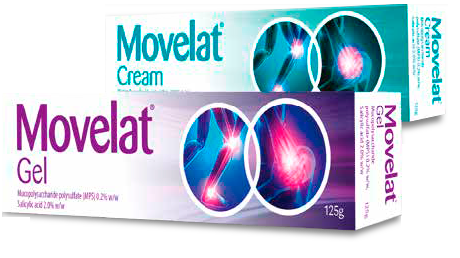 Movelat Cream and Gel 125g
Movelat Cream and Gel 40g and 80g
Movelat Cream and Gel in the 125g size tube are available on prescription; Movelat Relief Cream and Movelat Relief Gel are available from pharmacies nationwide.
The unique structure of MPS avoids many of the contraindication complications associated with traditional oral non-steroidal anti-inflammatory drugs such as ibuprofen, aspirin and diclofenac. Movelat works directly at the site of pain, so helps to avoid some of the gastrointestinal concerns associated with some oral pain relievers.